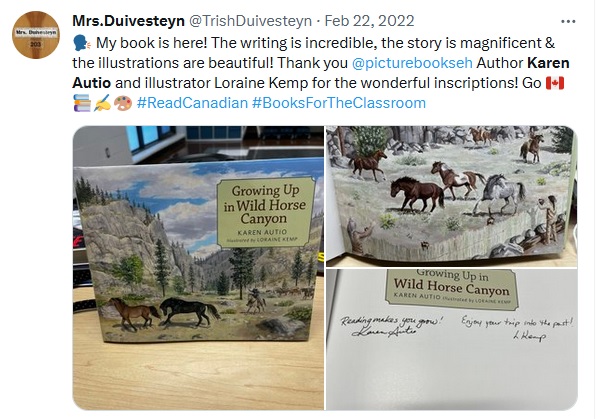 Resource Links review excerpt: "A good non-fiction resource for cross-curriculum classroom use. The neutral observer viewpoint of the ponderosa pine tree would lend well to a discussion of bias, and the content of the book would fit many points about Canada's history. Recommended for school and public library collections."

CM: Canadian Review of Materials review Highly Recommended (5 stars out of 5) Excerpts: "The accessible storytelling style of the first part, written in present tense, engages the reader with an overview of the lifestyle of the syilx/Okanagan people, beginning in 1780 in a canyon where the pine seedling takes root … Growing Up in Wild Horse Canyon is enlivened with exquisite paintings depicting the lifestyle of the people and events that affect the horses throughout their history. The paintings are particularly appealing for their animation and attention to detail, showing the artist's special skill in bringing the horses to life … Most interesting for its original choice of topic, Growing Up in Wild Horse Canyon will attract different readerships. Younger readers can simply enjoy the picture book section while more sophisticated readers can satisfy their curiosity further with the extra detail in the last section. The author acknowledges close cooperation with local First Nations to ensure accuracy and a respectful approach. As both author and illustrator live in the region, their firsthand knowledge and excellent research has infused the book with genuine passion for the topic. The publisher has developed a teacher's guide, giving the book a place within the educational curriculum."
Review by Karyn Huenemann, There Will Be Books blog: Excerpts: "This celebration of the cycle of life, as expressed in the slow growth and quick destruction of the ponderosa pine, and the ebb and flow of lives lived in its shade, is deeply satisfying. I hope young readers will feel at the end, as I did, that it is worth continuing, for the real history lesson lies in the pages that follow. In addition to a timeline …"More About Wild Horse Canyon and Area" includes more factual descriptions of the history and ideas touched on in the narrative. The combination of narrative and historical fact renders Growing Up in Wild Horse Canyon not only fascinating for any young reader interested in our history, but even more appropriate as an addition to school and classroom libraries throughout BC and Canada."

Review in The Ormsby Review by Ken Mather called Ponderosa Pine Time Capsule. Excerpts: "Each vignette is accurate and faithfully illustrated ... the ongoing story provides an overview history of the Okanagan Valley with particular emphasis, respect, and sensitivity toward the Syilx people ... The story is intended for a juvenile audience ... but the book is much more than a young person's story. It includes a glossary and pronunciation guide for Syilx words, a timeline for the Okanagan Valley, and an extensive twelve-page section on "More about Wild Horse Canyon and Area." These added resources make the book an excellent contribution to high school studies on the Aboriginal people."
Review on CanLit for LittleCanadians blog. Excerpts: "For lovers of trees, history, horses and British Columbia, Growing Up in Wild Horse Canyon will appeal to all … Don't misinterpret the story of Growing Up in Wild Horse Canyon from its title as I did. It is a historical account of a Canadian region unique in its heritage. Karen Autio makes sure to tell the story of Wild Horse Canyon from all perspectives: First Nations, European settlers, and Mother Nature … a history book that young readers will welcome and enjoy for its realism and truthfulness."
Review on HCOS Learning Commons
"As a former grade 3-7 teacher, I would recommend this book as an invaluable resource for elementary school teachers. It is so exciting to see a book so full of Canadian history wrapped up in such a beautifully-illustrated package." Eileen Holland
Read full review on Goodreads.
More reviews on Goodreads.

Reviews on Amazon.