Kah-Lan: Blending Sea Otter Facts and Fictional Story
Presentation focused on writing, reading, and natural history – ideal for grades 2–5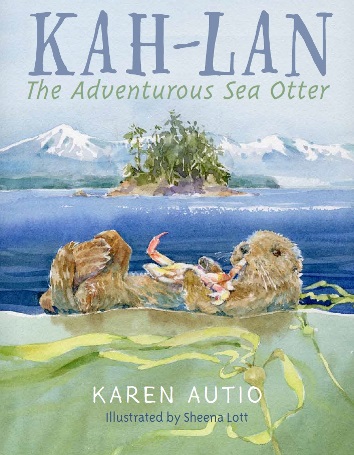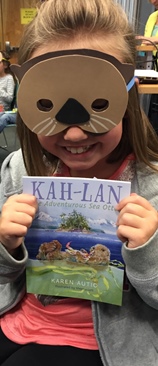 You otter be reading!
In this fun, interactive presentation, Karen Autio weaves together her passion for science, language arts, history, and sea otters. She also gives students insight into the challenges of writing and encourages them to follow their interests to write their own stories. Karen makes effective use of props, a hands-on activity, and PowerPoint images to enhance the learning opportunities for children.
Both Karen's chapter book
Kah-Lan the Adventurous Sea Otter
and her presentation are fuelled by fascinating research about the unique characteristics that help sea otters survive spending their whole lives in the cold Pacific Ocean. With her enthusiasm and knowledge, Karen reveals these characteristics and the history of sea otters, from near extinction to their recent and amazing comeback, despite continuing threats. She also explains how sea otters fight climate change by eating the sea urchins that destroy the kelp, a plant that absorbs carbon dioxide. In enabling kelp to flourish, sea otters help slow down the warming of the ocean and increase fish habitat.
Karen shares her journey as an author, starting with her childhood writing. She then notes the steps and persistence required to get Kah-Lan's story in print (first draft to published book in 30 years must be some kind of record!), and presents sample drafts of the story and final manuscript, together with sketches and final art by illustrator Sheena Lott. She also shows students how the large folded printed pages and flat cover fit together to form a printed book.
In writing
Kah-Lan
, Karen played with language to express Kah-Lan's point of view and immerse the reader in his watery world. After students learn Kah-Lan's home is a sea-tree (kelp) forest, old sea otters are Grand otters, and when he encounters people in the story, they are furless ones. Karen then leads students in creative wordplay to express their own new words from different animals' perspectives.
This dynamic presentation includes a brief reading from
Kah-Lan the Adventurous Sea Otter
and time for students to ask questions.
Length of presentation: Presentation length (30-60 minutes) and depth of information shared are determined by the age range of students in attendance. To promote interaction, Karen prefers to meet with smaller groups (maximum 90 students) of similar grade level: 2–3, 3–4, or 4–5.
Bringing Canadian History Alive
Presentation focused on writing, reading, and researching history – ideal for grades 4–6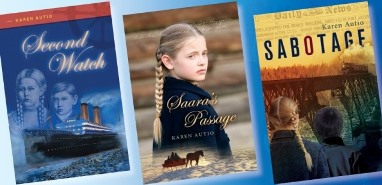 In this lively, visually appealing presentation, Karen Autio engages students in Canadian history and the immigrant experience, as she does in her trilogy of historical novels.
She shares her journey as an author, including writing projects in her childhood. Karen makes effective use of props, PowerPoint images, and hands-on materials while sharing her passion for researching history and the resulting "jigsaw puzzle" of transforming historical facts into a fascinating story.
Karen's goal is to inspire students to read, research, explore history (both family and general), and write using their own interests and experiences, showing how revision tightens and completes the exercise. She conveys writing is not a one-step process, that persistence is needed to get the story right and get it published. In fact, her newest book,
Kah-Lan the Adventurous Sea Otter
, took 30 years from first draft to publication! Karen shares the editing process of
Sabotage
, from getting feedback from student editors, to being directed by her editor to rewrite the entire manuscript (cue gasps from the audience) and the benefits from that revision.
Karen's historical novels focus on immigration and adapting to a new life in Canada. Other intriguing historical events in the stories include the 1914 shipwreck of the
Empress of Ireland
(Canada's
Titanic
), survival during a tuberculosis epidemic, and espionage, sabotage, and internment of enemy aliens during the First World War. Presenting these topics to students captures their attention.
In teaching children about Canadian history and identity, Karen's books and presentation support learning outcomes for both Language Arts and Social Studies. For each novel, a Teacher's Guide containing activities and questions for research and discussion is available to download at the top of this page.
Karen reads a captivating scene from one of her novels, then compares researching to time travel and involves students in exploring the resources accessible to a writer of historical fiction. Karen explains the publishing process from first draft to page signatures and flat cover that go together to form a printed book. With the help of volunteers, Karen demonstrates the stages of cover design for one of her novels.
Finally it's time for students to ask those burning questions they've been saving up and Karen is happy to answer. Length of presentation: 60 minutes
Presentation Details:
Karen's interactive school presentation is designed for up to three classes, with a maximum of 90 students. It is 60 minutes in length and concludes with a draw for door prizes.
Equipment Required:
- two medium-sized tables to hold presentation materials
- separate table and chair for book sales (if requested)
- photocopied class lists cut up and in a container for the draw
- computer and projector for displaying PowerPoint presentation from a USB drive
Contact Information:
Please
email Karen
directly to arrange for a school presentation.
Thank you for your interest.